KIRKMAN, Robert
Verenigde Staten, -

Series
The Walking Dead
samen met Jay Bonansinga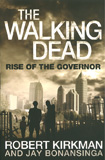 The Walking Dead: RISE OF THE GOVERNOR
2011, London: TOR, 308pag., 20cm, ISBN 978-0-330-54133-6
Philip Blake's life has been turned upside down. In less than seventy-two hours an inexplicable event has resulted in people... turning. The world has gone to hell and the walking dead roam the streets massacring the living. It seems that nowhere is safe. Escaping their small town, Philip has just one focus in life - to protect his young daugter Penny. And he'll do whatever it takes to ensure she survives. With his two old high-school friends and his brother Brian, Philip decides to aim for the city of Atlanta where it's said there are refugee centres being set up. But between them and safety lie hundreds of the walking dead - and the survivors' path to salvation lies straight through the middle of them...
Links